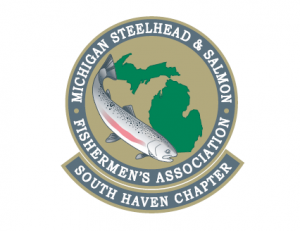 This is the community event that signals the start of the boating season in South Haven!
For the past 32 years, the weekend after Mother's Day, the best salmon and trout fishermen on Lake Michigan converge on South Haven. Ranked as one the best small towns by Midwest Living and recognized as one of the best Yachting towns in the world by Yachting Magazine; South Haven has earned a long list of accolades from regional and national travel publications. Celebrating over 100 years as a historic summer resort community, South Haven has a vibrant year 'round downtown dining and shopping district perfectly positioned right on the harbor overlooking Lake Michigan!
A centrally located marina, short walks to shops and restaurants are well and good, but the superlative salmon fishing is the reason many look forward to the South Haven Steelheaders Tournament every year.
This year's tournament weekend starts off Friday morning with the Friday 5 Challenge sponsored by Star of the Lake Masonic Lodge followed by the awards ceremony and Pro-Am Captain's meeting in the evening. The main event returns with the ever popular two day Pro-Am format along with a Big Fish contest over the course of the weekend with the Biggest Fish overall being sponsored by All Season's Marine and Dr. Flood's Vision Center. Additionally, a Second Chance tournament is on Sunday. The SHS Pro-Am is also proud to be a member of the Lake Michigan Tournament Trail featuring the 333 Championship Series.
Additionally, this year marks the second year of online registration and now for this year online scoring! Registrations received before or on April 30th will be eligible to be entered into the Early Bird drawing for 3 prizes. Also, remember to register before May 12th to avoid a $50 late fee.
Good luck and looking forward to a great tournament weekend in South Haven!